The Mission of the Georgia Council for the Social Studies is to advocate for, support, and celebrate the advancement of quality social studies teaching for Georgia students.

The Vision of the Georgia Council for the Social Studies is to prepare students to be knowledgeable, effective decision makers and engaged citizens in a globally interdependent world.
2019 Annual Conference

2019 Exhibit Space Request Form
2019 Advertisers Space Request Form
2019 Session Proposal Form (Closed for Submission)
2019 Conference Registration Form
2019 GCSS Hotel Information
GCSS has reserved a block of rooms at different hotels in Athens for the 2019 GCSS Conference. The cut-off date for the conference rate is September 17, 2019.
CLICK HERE for 2019 GCSS Conference Hotel Reservations
NEW to the 2019 Annual GCSS Conference!!
TeachingAmericanHistory.org will be presenting a seminar at the 2019 GCSS Conference on October 10th. The Populists and Progressivesseminar will be (3) 90-minute sessions. There are 30 seats available for the seminar. Participants should register early for the seminar to be guaranteed a seat. Participants should also register for the GCSS Conference which can be done at any time prior to the conference. Click here for additional information and seminar registration. Contact Pam Knauer, GCSS Conference Coordinator at pam.knauer@cox.net , with additional questions.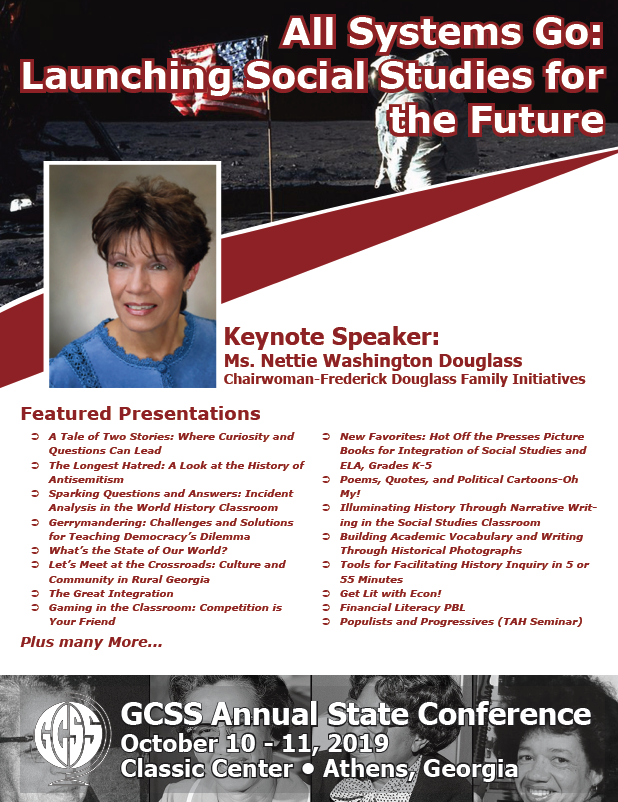 Click Here to Download the Conference Flyer